Damon Industry's "conveying and sorting special rollers" was awarded the national "National Manufacturing Individual Champion"
The Ministry of Industry and Information Technology and the China Federation of Industrial Economy have officially announced the list of the 7-th National Manufacturing Individual Champion. The "conveying and sorting special rollers" produced by Damon Industry, a wholly-owned subsidiary of Damon Technology Group, is on the list.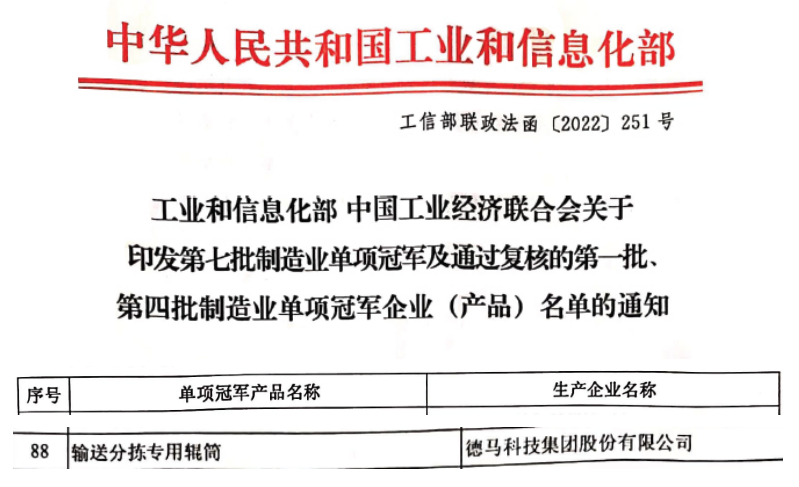 The National Manufacturing Individual Champion is an important honor for China's manufacturing industry. It is known as the "pearl" in a crown or as the "tip" of the iceberg for the manufacturing industry. It refers to the enterprises that focus on certain segments of the manufacturing market for a long time, with international leading production technology or process, leading the global or domestic market share of individual products, representing the highest development level and the strongest market in the global manufacturing segment. This award is an important milestone to measure the market share and technological innovation level of a single product.
As the world's leading manufacturer of conveyor rollers, the core component of logistics equipment, Damon Industry has been focusing on the R&D and manufacturing of conveyor roller products for more than 20 years and has developed the first generation of logistics conveyor rollers in China, filling the domestic gap in the industry. At present, Damon Industry has achieved an annual production capacity of 15 million rollers of various types of conveyors, which is second to none in the world. Every year, tens of millions of Damon Industry's rollers are used in thousands of kilometers of conveying sorting lines to ensure the orderly advancement of conveyed items, providing powerful support to many end industries such as new energy, airports, express delivery, e-commerce, tobacco, food, and manufacturing industries.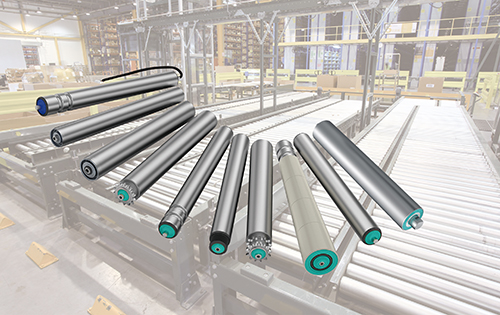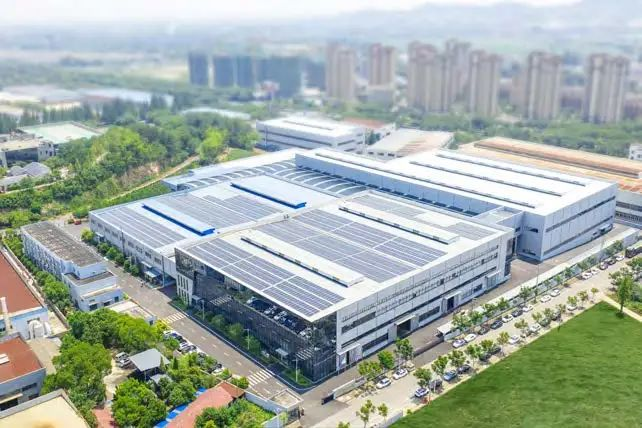 In addition, "individual champion" cannot be achieved without the core technology. Damon Industry has been working diligently in the area of "innovation and R&D". As the technology of logistics equipment has been iterating faster and faster in recent years, in the field of logistics equipment components, the R&D team of Damon Industry has been exploring how to provide customers with the best products and competitiveness. Up to now, Damon Industry has more than 40 technical patents and has hosted the drafting of the "Made in Zhejiang" group standard.

From pallet rollers for heavy-duty conveying to PU sleeve rollers suitable for goods-to-people sorting, to Light Running rollers for smooth sliding of light items; from steel poly-vee conveyor rollers for various environments to reinforced PVC sleeve rollers for greater split resistance; from tapered plastic steel sleeve rollers for reduced noise in the workplace to zinc-aluminum-magnesium tube rollers for guaranteed delivery. We have also introduced and developed DC24V intelligent electric rollers, which have developed from I/O instruction type to industrial Ethernet type, providing strong support for the smart development of conveyors. ...... Every year, we have new products in the market, and in 2022, we launched some new products such as "cam electric roller for right-angle load transfer" and "high-energy-efficient belt electric roller", which enable customers to build their equipment very conveniently, improve the efficiency and reliability of equipment, reduce energy consumption, design and manufacturing difficulties, and save overall costs.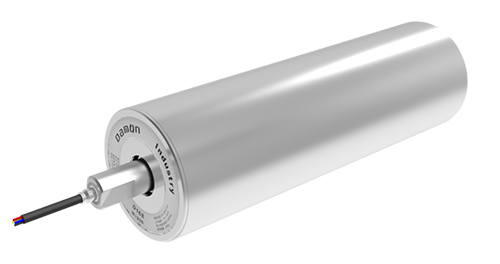 After years of development, Damon has become synonymous with "high-quality rollers" and has won the trust of users from all walks of life. 80% of the top 20 global logistics system integrators have chosen Damon rollers. Taking the opportunity of being listed as the "National Manufacturing Individual Champion", Damon Industry will continue to deepen its efforts, continuously increase R&D investment, create more products with core competitiveness, and create greater value for customers' logistics systems.