Damon Industry Rollers Provide Strong Support for the Efficient and Steady Development of Furniture Industry
With the approaching of [Industry 4.0 Era] and the increasingly growing market demand for full sets of distinctive furniture, customized furniture has become a new trend in market consumption. With the growing demand for customized furniture, the degree of automation for furniture manufacturing is becoming higher and higher.
Compared to traditional furniture manufacturing, flexible production equipment processing center will be more capable to meet the needs for customized furniture. Such equipment can be connected with automatic conveying equipment and form automatic flexible production lines. It will inevitably require the support of logistic parts which are more stable, reliable and efficient.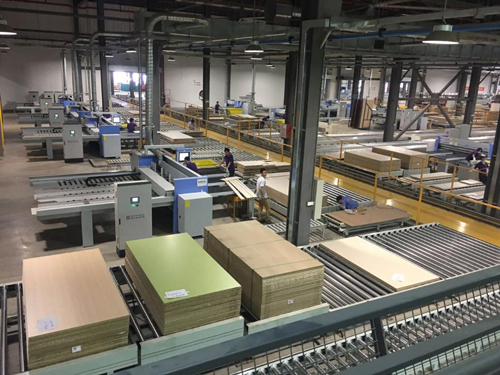 PVC rubber coated rollers of Damon Industry can prevent scratching and coloring to make conveying more comfortable and steady.

The surface of conveyed objects in furniture manufacturing industry is usually painted or wrapped. In the process of conveying, special attention should be paid to the avoidance of surface scratching. Rubber coating is an effective measure to prevent workpiece surface from being scratched in roller conveying process. Therefore rubber coated rollers are commonly used in furniture manufacturing industry. Although ordinary rubber coated on rollers can solve the problem of scratching, after a long time of operation, partial damage is very likely to occur when dumping dust that is adhered to the surface of the objects in convey. In addition, the rubber glue has different colors and coloring problem may occur in the process of conveying. All the problems can affect the quality of objects in convey.
Besides traditional glue roller, Damon Industry can provide PVC soft rubber glue roller solution more suitable for furniture manufacturing. With most functions of glue roller, it is similar to glue in terms of increasing friction, protecting undersurface, noise reduction and shock absorption, etc… However, its production cycle and cost performance are very favorable. The most critical point is that dusting is very difficult. Despite of slight dust falling, it will not adhere to the surface of conveyed objects. PVC is gray so it can overcome the coloring problem, a big concern of customers.

Damon Industry can supply 2mm PVC rubber coated rollers with a diameter of 50 and 60, As the most commonly used in furniture manufacturing industry, they make customers feel at ease.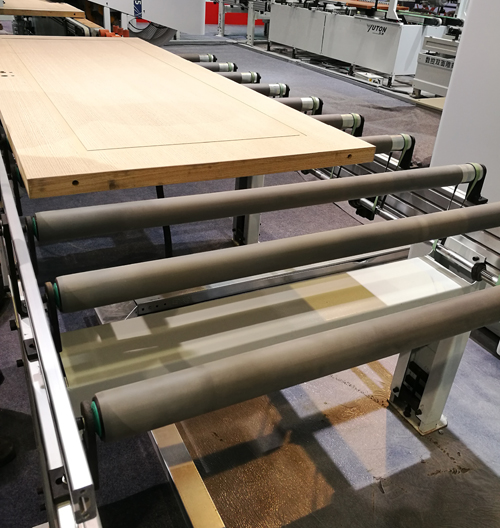 Favorable circular run-out of Damon Industry enables the conveying of long objects more efficient and stable.

Circular run-out is an important performance indicator of rollers. Whether this problem is good or can directly affect the stability and reliability of material in convey. In the process of furniture manufacturing, lengthy materials often need to be conveyed so the rollers used are usually very long, mostly over 1.6m. If the circular run-out id too large, conveyed objects can jolt and deviate from normal conveying direction. It can affect the accuracy of conveying action and the noise can be louder. In addition, it can probably cause damage to conveyed objects and shorten the service life of the conveying equipment.
Damon Industry rollers are made of top-quality raw materials: including steel tubes customized strictly according to the provisions of DIN-2394 Welded And Sized Precision Steel Tubes, plastic parts made of international fist class raw materials such as Dupont , optimized chain wheel structure, special bearing for rollers of international quality, outstanding circular welding technique, extreme care and precision in every procedure. All these give rollers a good performance of circular run-out that is better than JB/T7012-2008 and secure smooth and stable conveying of lengthy objects.
In addition to stable and reliable conveyor roller series, Damon Industry can also offer one-stop solution for belt conveyor products and energy-saving DC 24V electric roller products for furniture manufacturing.

So far, roller series of Damon Industry have been widely used in furniture industry, including Sogal, Mingzhu Home Furniture and Huizhou Haolaike. It is contributing its own share of strength and value to the rapid development of this industry.