In recent years, people's living standards and online shopping experience improved a lot. At the same time, logistics and express delivery industries have been growing, daily parcel processing volume has been increasing year by year, along with the demand for sorting, loading and unloading goods.
Because of its flexibility and small space occupied, the expandable conveyor can help reducing personnel need and work intensity. It also fits in various scenarios, which make it very popular among customers.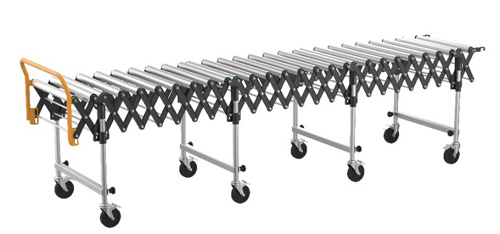 As a model suitable for conveying objects with big bottom space, the non-drivenexpandable roller conveyor offers stable conveyance and low noise during its operation. It is equipped with a handle made of round tube and black electrophoresis-treated expandable side plates, which has excellent durability. Each of the supporting legs comes with brake casters of 125mm outer diameters from a well-known brand, which makes it solid and reliable.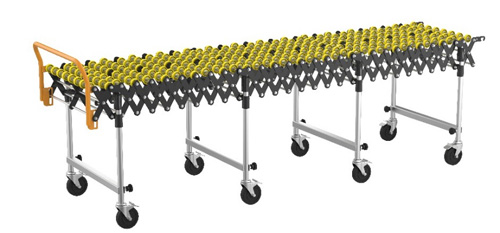 In the process of sorting and loading/unloading goods, we often encounter objects with small bottom area or big arc bend, which are best to be conveyed by the non-driven skate wheel expandable conveyor. Plastic skate wheel requires a smaller starting torque than the steel skate wheel. If the object is light and the bottom material is not wear-resistant, we recommend the FWC-P model of plastic skate wheel; if the object is heavy, we recommend the FWC-C model of steel skate wheel.
Compared to the expandable roller conveyor, the expansion ratio (1:3) of the expandable skate wheel conveyor is bigger, the occupied area is smaller after folding it in, weight of the whole equipment is also lighter and it is more flexible and convenient for daily use. Due to the locking wheel with supporting legs are equipped, height can be adjusted to form a certain slope, so that goods propelled can slide down by their own weight. Simultaneously, the handle can be used as a package stopper.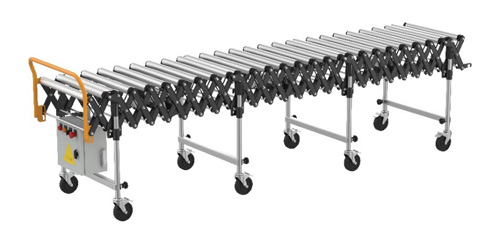 The motorized expandable conveyor would be a nice choice for loading/unloading goods or when coupling with other power conveying lines. Motorized expandable conveyor can maintain a steady speed with smooth transportation, which can also reduce the number of stations and personnel.
Damon Industry's motorized expandable conveyor is equipped with 120W motor, frequency converter and emergency stop. The two models are driven with Poly-Vee belt and O-belt. The FWDP poly-vee belt model has a high starting torque and is suitable for straight-line situation requiring bigger weight load and higher speed; The FWDR O-belt model is suitable for curved-line situation. Both models have stepless speed regulation with forward and reverse control.
In addition, the special structural reinforced design offers high durability to each conveying unit under large flow and heavy load conditions. For larger objects with different widths, Damon motorized expandable conveyor are also available in 800mm roller surface width.
As a professional manufacturer of expandable conveyors for more than ten years, Damon Industry has paid great attention to listening to customers' opinions and collecting feedback on site. Through continuous design improvement and optimization of equipment components, we tried to meet the changing needs of the market and to better serve our customers. A reasonable choice is the first step to success. We hope that this article can help readers with their selection ofexpandable conveyors. At the same time, our customers are always welcomed to contact us at any time.