In 10 minutes, we created a discussion point.
During Dedao microclasses, we share everything about the uses of rollers with you.
Employing different methods with equal success --- Today's topic is: What to do when dealing with nonstandard shaped-goods that need conveying?
【Reader's confusion】
In the logistics conveying system, the roller conveyor, which is composed of various rollers, is one of the most common solutions to conveying. It has a wide variety of uses in express delivery, warehousing, and smart industries.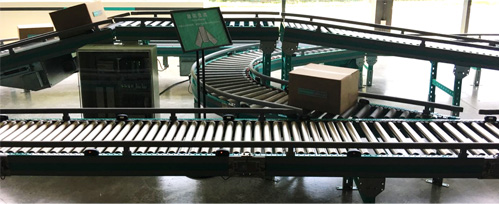 Readers who are familiar with "Dedao" should already know the "three rollers principles": the bottom surface of the conveying goods must always be in contact with three rollers and the contact surface must be flat.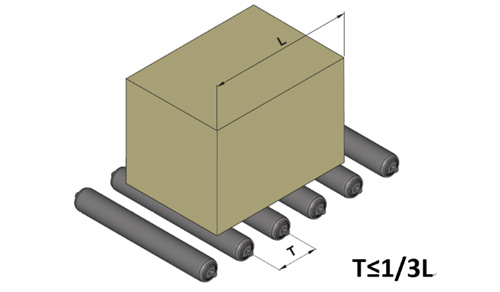 In reality, however, the on site situation is not always as ideal as we think it is. We often receive assistance from the terminal to find a solution to the trouble caused by nonstandard shaped goods during transportation.
【Time for thinking】
There are many types of nonstandard shaped goods, like cardboard boxes, cans, workpieces, wide bottom surface goods and so on. Are there any rules that we can follow to categorize them?
"Dedao" classifies them into "small", "wide", "soft" and "other".

To start with, we have identified the following problems:
1.Goods do not follow the "three rollers principle", transportation isn't smooth (blockages occur);
2.Goods are obstructed so they can't move forward, transportation loses effectiveness;
3.Rollers are too long, some of their functions (load capacity/ circular motion) deteriorate;
Yet, most of the time, these four issues do not occur simultaneously, so we are going to tackle them one by one.
【Dedao - solution】
"Small" --- Solution: Seamless
Small refers to light and the best choice in this case would be Φ38 mm, Φ25 mm, even Φ18mm diameter rollers. A friendly strategy would also be Φ38 mm unpowered rollers driven by bottom belt friction.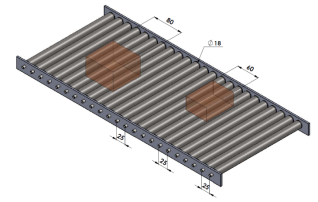 Of course, if the goods are extra small, the roller conveyor would not be a sensible choice. A leather belt or a modular belt conveyor would be more suitable.
"Wide" --- Solution: Let it run free
Since width is not delimited, there is no such thing as a universal solution. There are 2 common ways:
1) Double row/ multiple row roller line design
Advantage: As the number of rollers sharing the cargo doubles, the load-bearing demands for one single roller diminish; as the length of the roller is shortened, the load-bearing capacity of one single roller is maximized, difficulty in production and transportation reduces a lot.
Pay attention: If it's power transmission, you shall need a double-head drive synchronous roller.
2) Conveyed goods exceed roller surface
Advantage: It effectively controls the width of the frame without increasing the complexity of structure and installation; it can convey objects of different widths.

Pay attention: Keep the conveying surface at the highest position, and ensure that the driving element, chain/belt, welding seam and other elements are lower than the roller's surface.
"Soft" --- Solution:
The problem caused by "softness" is that the bottom surface of the goods are likely to sink in the gaps between the rollers and that would increase conveying resistance. In this case, the solution is to slow down as much as possible and to increase roller surface friction.
A more common approach is to reduce the distance between the power rollers or to add a pallet between the rollers. Also, you can opt for engraved anilox rollers or encapsulated rollers.
In addition, a chain plate/belt conveyor could also be a good solution, at the expense of increasing system complexity and costs.
Pay attention, the above mentioned "soft" refers to semi-rigid bottom surfaces. For soft packages such as flour and cement, please use special conveyor rollers.
"Other" --- Solution: Change to a different tune
In truth, roller conveyors are not suited for transporting goods with a nonstandard bottom. With no tooling board or pallet around to act as an intermediary, don't hesitate to change to a different conveying solution.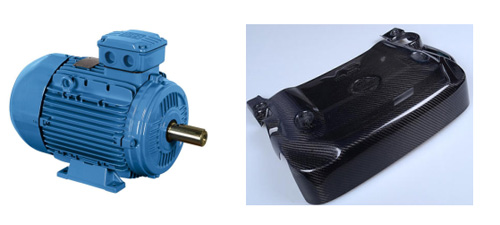 【Conclusion】
Employ different methods to equal success or in other words, no matter the solution, the purpose stays the same - to make transportation easier.
That was all for today's "Dedao Classroom". By sharing our point of view, we hope that next time our readers will have to deal with goods from the categories of "small", "wide", "soft" and "other", they'll do it in a calm and accepting way.
Dedao microclass, knowledge at your fingertips. Till next time!