Damon Industry's unified product management provides high-quality flexible expandable conveyor for you
Starting from June 1st, 2020, Damon Group's expandable machine products (hereinafter referred to as the flexible expandable conveyor) is available for sale on Damon's online platform. Damon Group started developing, manufacturing and selling telescopic products more than 10 years ago. During this process, we have constantly listened to our customers' opinions and collected on-site feedback. Also, we improved our products' structural design and optimized parts on so many times. Recently, we developed a model suitable for medium-sized loads, which has won the unanimous trust of our most influential customers.
This time, Damon Industry put the success down to the work of the unified product management. Relying on nearly 20 years of experience in the manufacture of core components and on the continuous improvement of management methods, we have further refined and optimized telescopic products and are committed to providing you with standardized and high-quality flexible expandable conveyor products.
In the logistics industry, the flexible expandable conveyor is mainly used in sorting, transportation and intelligent manufacturing. It is used for transporting goods with a flat bottom surface. It can move, stretch, and shrink, saving space storage and making up for the inflexibility of the fixed machine. In this way, the number of operators can be reduced, along with labor intensity. In the same time, it optimizes overall logistics costs. Along with the increasing trend of logistics automation, the market's demand for telescopic products and quality requirements are also increasing.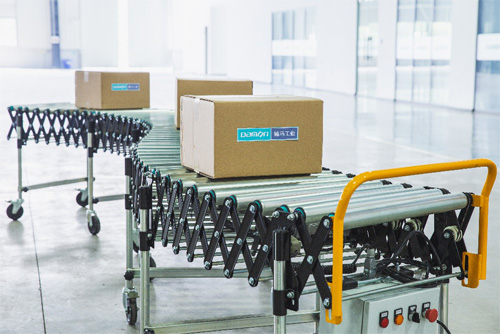 Taking into consideration the actual needs of our customers, Damon Industry came up with three types of flexible expandable conveyor.
The roller flexible expandable conveyor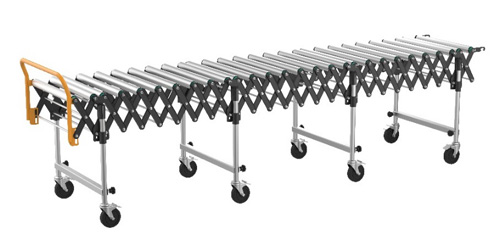 The fly wheel flexible expandable conveyor
The electric roller flexible expandable conveyor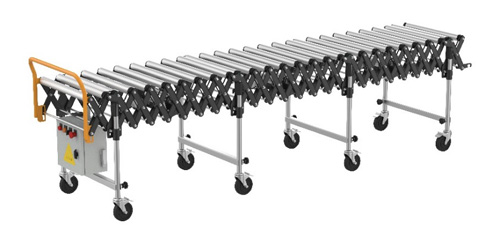 So what are the advantages of using Damon Industry's telescopic products?
1. It is made of Damon Industry's customised components, conveyors included.
2. It undergoes a 3mm black surface electrophoresis treatment, the pieces and corner plates resulted from the process of punching and expansion are reliable and durable.
3. The outrigger's height can be adjusted by the locking wheel. It is equipped with a 125mm heavy-duty caster with brake function, which is stable and reliable.
4. One of its ends is equipped with a round tube handler, which makes it convenient for pushing, pulling and moving. It can also be used as a blocking device, to prevent goods from falling over.
Damon Industry is willing to invest more energy in innovation so to be able to create greater value for our customers.