In Damon Industry, there is a galaxy of lovely people who have willingly contributed all their diligent efforts and youth to the company. They keep working in the forefront of roller production. In spite of awful weather, they still continue their great work in their ordinary post. Today, I want to point out a good example of them, that is, the Most Beautiful Worker of Damon Industry-Zhu Baohong. He is not outstanding in appearance, but stands out for his devotion to the work. He speaks no striking words, but contributes a great number of moving stories in his post. Such a lovely employee deserves all our praise.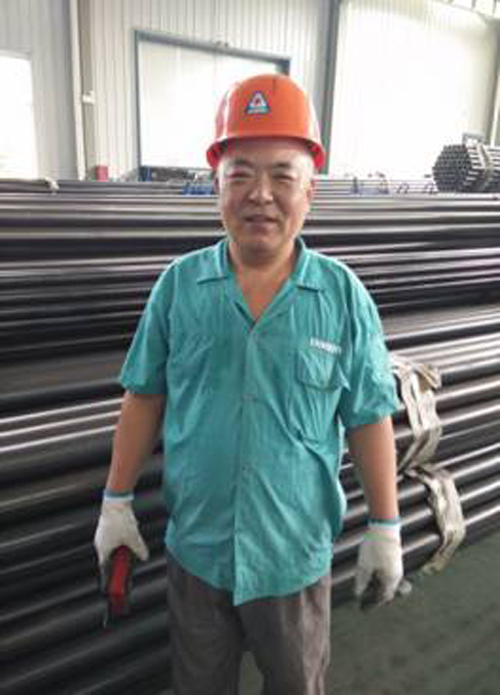 As is known to all, Mr. Zhu is a senior employee in Damon Industry. His position in the company can be regarded as equal to the founder of a dynasty in ancient times. He also takes pride in his career. As a member of Damon Industry, we should first be responsible for our jobs. This is what guides Mr. Zhu to make painstaking efforts and fulfill his duties. In 2004 when site management of front-line production was absent, the steel warehouse bore the brunt with idle stocks, differences between records and actual stocks, as well as the monthly inventory losses. However, the cause of it remained unknown. Mr. Zhu braved the difficulties. He focused on managing the source of "entry records" and the end of "exit records" to control the consistency. Materials in the steel warehouse are open to all, so in case of abnormal conditions in exit process, Mr. Zhu strictly stopped it, investigated and punished those who were held accountable for it. About 2 months after taking office, Mr. Zhu straightened out all the records of the warehouse and enabled it to process effectively. By now, Mr. Zhu has devoted himself to the work in the warehouse for 12 years. Now, the coincident rate of account and matter in the warehouse in the charge of Mr. Zhu has reached over 95%.
He has worked in the post for 12 years. How many 12 years are there in one's lifetime? When reviewing the past, he never regrets, and instead, he feels fulfilled with great pride. During the 12 years, he remains on-time for delivering his assignment and demonstrates a perfect implementation capacity. No matter how late he finishes his work, and how great the pressure is, he never puts off till tomorrow what can be done today, even by over-time working. This is what we should learn from him.
Every time I see Mr. Zhu, there is always a smile on his face as if he has nothing to be unhappy. Sometimes I also think, what motivates his enthusiasm toward his jobs and his colleagues? Maybe it is the sense of mission and deep feelings to Damon Industry that keeps his willing to work on the same post for 12 years and maintains his original passion and vitality.
Selflessness is another precious trait that Mr. Zhu bears. He always imparts in patience all the knowledge he knows to the freshman. Over the course of moving to the new plant in 2013, he gave great support to make sure that the materials were sufficient for production and the delivery never stopped. Thanks to his guidance, the whole steel warehouse accomplished the transfer with all the materials in place and all the accounts and matters clearly consistent with each other. A high action power and cooperation degree is what we should learn from him.
In Damon Industry, there are many employees who are as excellent as Mr. Zhu. Thanks to them, the company can do well in providing high-quality rollers to our customers.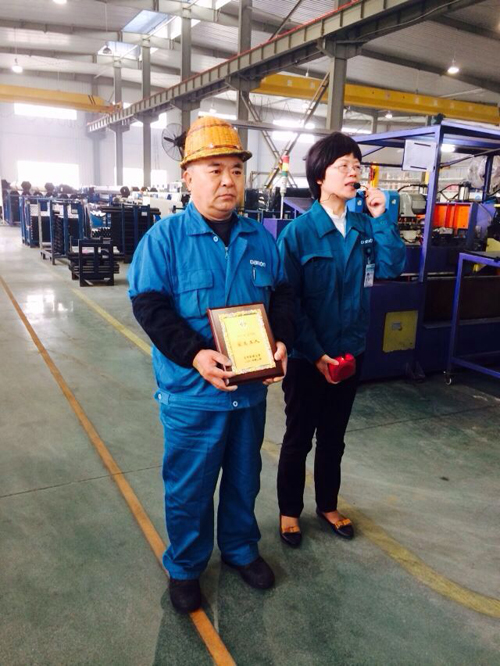 Just because of his spirits, he was granted "the Teamwork Award for Excellent Employee in the Annual Assessment of the Group" respectively in 2010 and 2013. Besides, he was also appraised as an "Excellent Employee of the Business Department" for many times. This year again, he is appraised as "the Most Beautiful Worker". This award can be regarded as a due tribute to Mr. Zhu's contribution. All that he has done exude great lustre of the most beautiful worker. When our general manager President. Cai gave the trophy to him in the morning meeting, once again, we saw a striking and simple smile on his face.