Zhejiang Damon Industry Equipment Co., Ltd. (hereinafter referred to as "Damon Industry") is a worldly famous manufacture and technical service provider of logistical conveying components (conveyor roller). Damon Industry has stepped into a new chapter with all the breakthroughs on many fields like R & D, Process improvement, marketing and brand building in the past two years. An amazing boxing master leaving you with nothing but trying to catch up like some combos swings it. What kind of philosophyconducting the evolution of the company lay behind those frequent movements? Our correspondent has recently interviewed general manager MadamYongzhenCai ofDamon Industry, together with her idea of how Damon Industry people think about.
Meeting The Market, Presenting New Products
Reporter: Upon what kind of customer demand have you made your judgement so that Damon Industry comes up with certain new products and techniques in the past two years?
Yongzhen Cai:

All these years, Damon Industry's most important mission is to manufacture electric roller. Earlier in 2012, Damon Industry started a strategic cooperation with KYOWA, to offer Chinese market with the Motor Drive Rollers several years later, Damon Industry has won a great reputation and of course a lot of businesses depending on but just good quality and good service.
Never the less, our R & D department never stop their step on the road of innovation. With the burst in logistical equipment industry, more and more customers had higher requirements on heavy transporting equipment, for instance, the roller needs to have a stronger structure, more powerful torque output, and also better adjustments in control module. Based on things like these, Damon Industry brought out a masterpiece—— DC24V Pallet Handing MDR debuting in the CeMAT AISA Fair in 2015. SENERGY, this new-generation intelligentPulseroller may just appear to be a little bit thicker, but there are a lot of improvements and innovations inside. Which could be listed as: safe DC24V voltage; simple design, space saving and quick installation;large torque, be able to propel a wooden pallet weighing about 1,400 kg;soft start/stop and speed adjusting functions, make sure it runs safely and smoothly; also a good choice when there is a restriction on space as it could solve the transporting issue.If we combine the roller with AGV or transplanter, mounting the original motor inside the roller instead of leaving the motor in aseparate room like it used to be, then there is a lot of space saved.
With its powerful torsion, magically low energy consumption and smart propelling communication system, DC24V MDR has been chosen into the recommending page of "Chinese Green Warehousing and Distribution Technology & Equipment". So far, this newPulseroller has been deployed widely among fields using pallet for transportation like tobacco industry, manufacturing industry, E-commerce industry and so on. Thanks to the burst in E-commerce and express industry over the past two years, the market has a great demand for the belt conveyers. Last year, we had already started the project of producing belt conveyor pulley, but most of the components were notprocessed by ourselves but subcontracted. After a year of preparation and endeavor, we finally integrated our own production line for the manufacturing of the belt conveyor pulley. Damon Industry always emphasizes that the basic is fundamental, then comes the development. Before we took over the manufacturing line of belt conveyor pulley, 6 to 7 months were spent for sorting the technological process, to make sure that we are prepared for the standardized ERP system and the quality control system, then gradually starting the producing. So that there is a solid guarantee when Damon Industry brings out its professional product line of belt conveyor pulley, they will always carry on the high strength of wielding and precision of processing.
"Kanban system" Being Online, Improving The Production Progress

Reporter: According to the disclosure from official news, Damon Industry is trying it's very best to set the Kanban System on track for the production line. Could you please introduce the details to us, and how the company benefits from this?

Yongzhen Cai:

First of all, let me introduce the Kanban System (also known as Kanban Management). Kanban Management is an important conception brought out by Toyota to get the control of real-time producing progresses in order to finish the production just in time (JIT). The Pull Production (of JIT system) is designed to make the materials flow smoothly as a result of shortening the transmitting procedure of information, with the coordination of utilizing quantitative and scheduled loading containers. The point of JIT Kanban is transmitting the information of what should be produced and transported in which way at when in what quantity. This system is applied in Damon Industryin a way of installing Internet monitors which share the info of purchase order and producing drawing in production sites, there is a real-time production when procedure has been arranged by schedule.
Before this system was online, there were almost 50 thousand items produced every year, there were at least 4 drawings circulated among the production chain for every qualified product in the purpose of proper producing. Multiply and we get 20,0000. Considering the quantity of drawings, first of all, there is a huge consumption of papers; second, there are inevitable worn out and misuse during the circulation. Any mistake in any part could lower the efficiency or even worse, the quality.
Damon Industry has scheduled the "Kanban System" project since August 8, 2015 in order to make the production and management transparent, shorten the procedure and improve productivity. With the endeavor from technical department and operation department for more than 280 days and nights, "Kanban System" which started the trial on April 10, 2016, finally get online in the middle of May. In the old time, workers need to produce with the drawings by hand. Nowadays, stepping into the workshops you'll find out that there is a monitor at every workbench of every job. Whenever a worker wants to check the drawing of a conveyor roller, all he needs to do is picking up a touch pen and pointing at the screen, then he could browse any assembling drawing or progress.It's convenient, quick, efficient, clean, and most of all, hard to make mistake.
Under this working mode, there are several advantages:
No.1, paperless office, when the information is shared on screen, there are thousands of papers saved without all the printing;
No. 2, Improve the productivity. As the information is shared, a lot of unnecessary procedures are cut off;
No. 3, Arouse workers' enthusiasm and self-pride for work as a result of getting immediate feedback from system.
No. 4, The operation is transparent and standardized, less mistake.
No. 5, Improve the company image.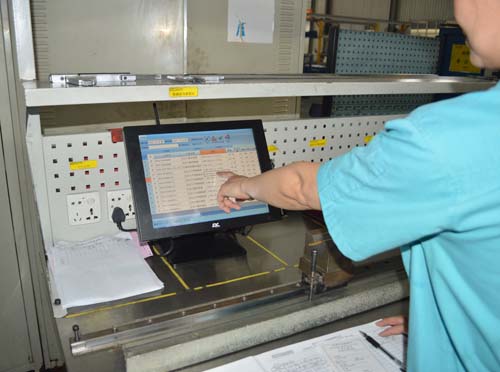 Embracing The "Internet +", Building Industrial APP.
Reporter: Recently, our country has been putting a lot of efforts to advocate developments in manufacturing industry as there are conceptions like "Intelligent Manufacturing" and "Internet +" brought out to help achieve it. Your company is also rather innovative as words been told that you have already worked out an APP, which is the first industrial APP launched by logistical equipment manufacturer in our country. Could you please introduce it to us,how your customers benefit from this service and what kind of change has it brought to your company?
Yongzhen Cai:
Nowadays, we've been keeping talking about "Industry 4.0" and "Internet +". Damon Industry has been thinking about how to utilize Internet as a new technique and operation mode to conduct technical improvements, efficiency boost and organization revolution all the time, which could finally enhance our productivity and innovation ability. Under such circumstance, we launched the first functional APP of our industry which is highly combined with the conception of "Internet +", tointegrate management for online and offline production, to provide our customers a more convenient and qualified service.
Our clients could get most of the below services through this APP:
1. Progress tracking of orders: Customers could check the progress and transporting status of an order anytime by typing the PO number or contract number.
2. Item recommendation: By tying the working condition and property of a product, this APP will help customers to choose the best one while listing all recommended series and models.
3. Detail check: By tying or choosing a configuration, customers could locate any specified item and check its status with related 2D/3D drawings and catalogue downloadable.
4. Market trend: Customers could get the newest tendency of our company in the first time or participate in the online market research.
When we open our information and system to our customers through this APP, their requirements and order details are also efficiently received in the shortest notice, which results as a contraction of time to complete a production. Which is valuable to us both.
Speaking to "Intelligent Manufacturing", not only do we stress on the intelligence of producing but also the intelligence of the product. From the product itself, roller is only a very basic part, but together with the intelligent control card, intelligent model unit and electric control system, this fundamental part gradually possesses the elements of intelligence. We will focus on the promotion of these functionin the next two years to let our customers have a better understanding and utilize them. It's a total waste if they don't use these function because there is no enough understanding. So when we emphasis that we will put "Intelligent Manufacturing" into work, it's not just about producing intelligent products but also helping people to use these intelligent functions.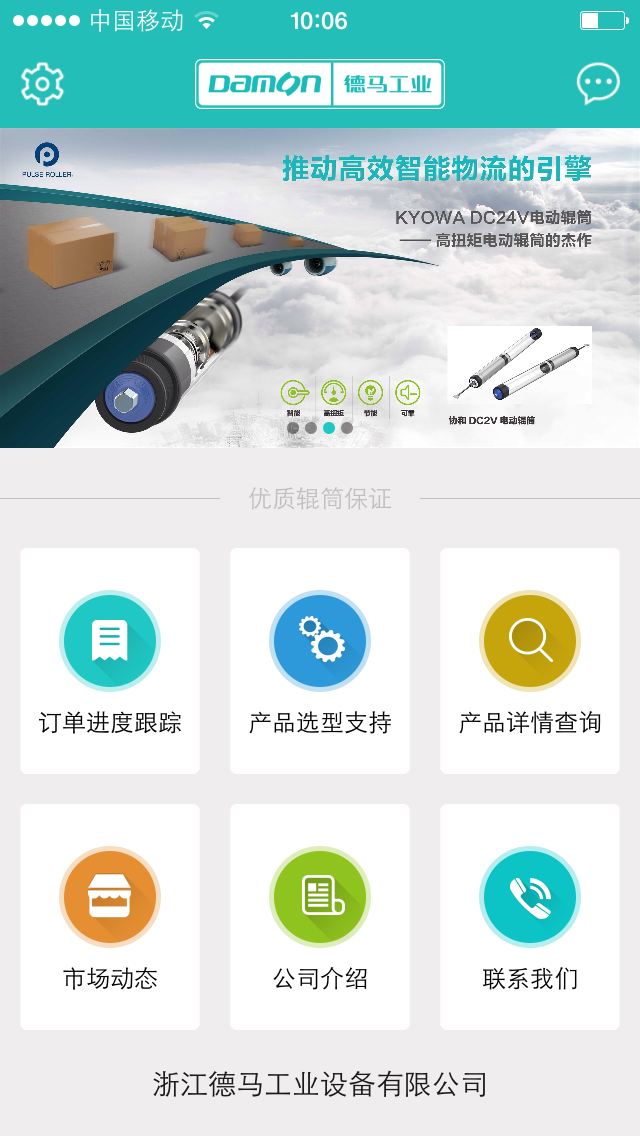 Keeping The Promise, Setting Up New Images

Reporter: The brand awareness of your company has been getting stronger and stronger since the growth of Damon Industry. At the beginning of last year, your company had hosted a release conference for a new brand in the name of "Green Damon". It's been more than a year now, how's your brand building going?
Yongzhen Cai:
In the progress of growing from small to big, weak to strong, we're not only focusing on producing high quality products but as well seeking to build our unique, valuable and influential brand. We officially used "Damon Green" in order to build a new brand image in May, 2015. Until today, we think it's successful and better than our anticipation. There are two indications to proof: first, no negative effect on our sales in the year when we released the new brand, on the contrary, we did a better job; second, which is also more important, is that most of our customers support for what we did.
Of course, we did a lot of homework before showing up with a new image. For one thing, we worked out a lot of solutions for our customers to choose. Taking for example, if a customer only needs to replace some components partly, we will still offer items with yellow end caps to maintain the appearance of the original system. And we guarantee that there is a year for replacement; if he is building a new system, then we require to make it in green. At this moment, most of them accept the products with new color. During the transitional year, we were producing exactly according to the color our customers required to make sure that no mistake was made.And indeed there is no mistake in the actual operation which reflects our hard working attitude and a mature, reliable ERP system. For another, in order to conductour customer to choose the productcarrying our new image, we promise to offer certain privilege which is giving a 4% rebate at the end of year in term of the annul purchase volume. Our customerswere really appreciated when we fulfill our promise last year. At the end of this year, we could say goodbye to the old roller with yellow end caps and finish the transformation of our company image.
I think this is a proof of our abilities on 3 different aspects: the first is proper advertising, which leads to the good understanding between the customers and us; the second is our organizing ability of producing, which is not sending incorrect products to confuse our customers and not effecting the producing progress; the last one is our honesty, when we promise that there is a rebate, there is a rebate, that's a reflection of oursincerity. The transformation is not only to highlight our brand but also to show our determination of further developments.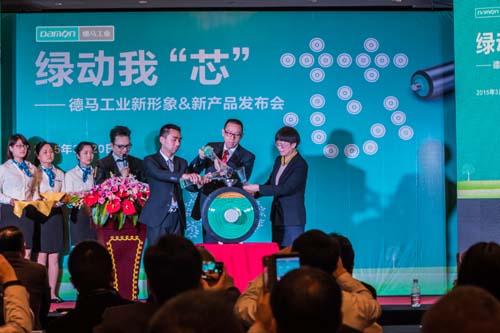 Stepping Out, Confronting The World
Reporter: All these years, Damon Industry has kept its deployments all over the world. Could you introduce the latest movement and how it changes Damon Industry in the future?

Yongzhen Cai:

Indeed, we're keeping working on globalized developments in the recent years. We set up our factory in Australia in July, 2011; Our facilities in Romania come into operation in 2016; Besides, we have partners in USA, Japan, Malaysia, Indonesia,Singapore providing localized service and production; We also have our own agents in Korea, Ukraine, Turkey, South Africa. In the future, as a mission of providing service and technique support for customers all around the world more conveniently, Damon Industry will keep on working.
This is a movement based on providing globalized service for our customers, we hope that with globalized development, especially localized production, comes more convenient and better localized service; In order to make our customers more efficient and competitive, wherever they are, they could always find a nearby support of our products and technique.
As Damon Industry carrying a dream to build up an enterprise in the name of a Chinese brand with global influence among the field of logistical conveying components,it is our duty to confront the challenges and changes of the market, to keep on innovating, to keep on moving.